Evaluate and Manage New Expectations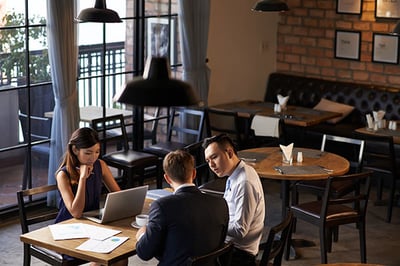 There will be major changes in the tasks that are required of your restaurant staff. Rather than taking in-person orders and seating guests, more labor will need to be allocated to managing the influx of online orders for pickup and delivery. Make sure your staff is aware of changes to policy, tasks, responsibilities, and more. They need to know what they should prepare for, and how their job responsibilities will be affected by the pandemic.
Train and Maintain
Communicate with your staff about these changes, and ensure they are well-trained on the technology they will use and the procedures they need to follow to optimize restaurant delivery and online ordering services. Go over new expectations and policies with them to keep everyone up-to-date.
"Anyone can walk up to a HungerRush system and enter an order. New additions to my wait staff can be productive on day one." - Dan Saccone, Saccone's Pizza
In a pandemic situation, health and safety is #1. For the restaurant industry, it is paramount that you review and update your health and sanitary practices as needed to combat the spread of pathogens. Take the time to review your employee sick and family leave policies, and adjust them accordingly.
As a business owner, you are responsible for the safety and well-being of your employees. They are putting themselves at risk in order to keep your business in operation and maintain their livelihoods. It is your responsibility to minimize risks and treat them with appreciation and respect.
Your staff is a great resource for insight on how to optimize your operations. Data from your POS system is valuable when it comes to making real-time business decisions, but your employees have hands-on knowledge of their daily tasks and can offer different perspectives and ideas for how to streamline operations.